Dueti Duel Purpose CNC Machining for Education and Training
Code: BDueti
Description:
A unique dual purpose CNC training machine specifically designed for educational needs.
The Boxford Dueti is a unique machine tool that is both a CNC lathe and a CNC milling machine. Now trainers can invest in the latest technology and obtain two state-of-the-art machines for the price of one.Critical components of the machine are moulded from the latest advanced composite materials, giving high strength, rigidity and precision.
Operating on IBM/100% compatible computers, the inclusive user-friendly software has routines for Computer Aided Design [CAD] at varying levels and will process the drawings through to a full machining routine. Seamless links to 3rd Party CAD/CAM systems are also provided.These features and many more establish the Boxford Duet as the world's most versatile CNC training machine.
Price on application
Unit price: $
How to order:
Email your order to admin@designability.com.au. We will send the goods out with an invoice. To make card payments please call 1300 363 352
CNC Features
The Boxford software is an integrated suite of powerful CAD/CAM tools.
The CAD includes the handling of most text fonts with excellent manipulation routines.
Drawings from other CAD applications can also be imported and processed.
A full 3D simulation of the manufacturing process, including a cycle time, can be shown enabling work to be proven without the need for trial cutting.
Manual Data Input allows programs to be entered using world standard industrial G & M codes.
As with all Boxford PC machines, the DUET incorporates hardware capable of continuous 3 axis movement and utilises Continuous Path Manufacture allowing large programs, imported from Major CAD/CAM packages, to be machined extremely efficiently. This is particularly useful for Rapid Prototyping of 3D reliefs.
Touch sensitive control panel incorporating illuminated push buttons allows the machine to be operated without a computer.
Active and accurate tool path graphics continuously displayed line by line during program simulate, write, and manufacture.
Specification
Slant-bed configuration in lathe mode.
6 Position programmable turning tool changer.
4 Position programmable drilling/boring tool-changer.
Programmable lathe spindle speeds in RPM, M/min or in/min.
Programmable lathe feedrates in mm/min, in/min, mm/rev or in/rev.
80 mm diameter 3 jaw chuck. Quick change vice for mill work holding.
Three axis simultaneous operation in milling mode.
Homing switches fitted to all axes facilitating automatic setup in manufacture.
Fully enclosed see through guarding for safety and improved viewing.
Standard Low Volt Light.
Lathe and Mill Tooling Starter Pack Included.
Unique conversion from Lathe to Milling machine in less than one minute.
The Boxford DUET software and machining package provides:
In depth and practical experience of Information Technology and Computer control.
A facility for quickly producing complex, high quality artefacts to satisfy Design and make tasks.
An opportunity to manufacture artefacts for practical use in Fabric and Food Technology.
A platform for creating links with Art, Science, Business Studies, Electronics and Industry.
A practical, real life application of mathematics.
Standard Equipment
Low volt light
80mm 3 jaw chuck
6 position turning tool changer
Quick change 4 position drilling/boring tool changer
Turning toolholder and 5 tipsParting toolholder and 5 tips
Turning billets and wax milling block
Quick Change Milling vice with 2 reversible jaws
3 milling cutter holders (5mm, 5mm, 8mm)
End mills 2mm and 4mm diameter
Keys, oil-can and swarf brushSoftware on CD ROM
Mains cable, USB cable
Operating manual on CD ROM
Turning and milling programming manuals on CD ROM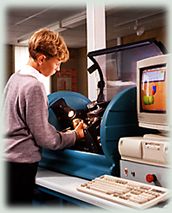 Our 50-year reputation for quality and value springs from a unique company structure. A single industrial complex with sheet-metal fabrication, machining, assembly, electronics and software on one site gives us direct control of all aspects of our operation and guarantees a service second to none. With all these advantages, Boxford products incorporate all the features you would expect to find on larger, more expensive machines at an extremely competitive price.
Lathe
Swing over bed
225mm (8 ¾")
x Axis travel
125mm (5")
z Axis travel
360mm (14")
Distance between centres
330mm (13")
Spindle bored to pass
20mm (¾")
Mill
Axis travel
X (longitudinal) - 125mm (5")
Y (cross) - 75mm (3")
Z (vertical) - 260mm (10")
Table dimensions

180 x 110mm
(7" x 4 5/16")
Machine
Programmable and variable spindle speeds
200 to 2500 rpm
Programmable feed rate
0 to 1000mm/min
Main drive motor (single phase supply)
380w
Rapid traverse rate
1000mm/min
Machine Dimentions
A 890mm
B 480mm
C 350mm
D 190mm
E 590mm
F 960mm
Machine Weight: 80Kg (176lbs)
Dueti Product Brochure Download