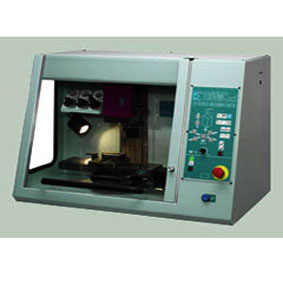 190 VMCxi Vertical Machining Centre
Code: B190VMCxi
Description:
Integrated bench top vertical machining centre specifically designed for educational and training installations.
3D graphicsAutomatic
CAM software
Cuts steel, brass, aluminium, plastic and wood
BEST support (Boxford Educational Support Team)
The PC controlled Boxford MidiMILLi Vertical Machining Centre is ideally suited to a classroom environment and offers the ideal solution for high tech. education and training requirement's. Operating on IBM/100% compatible computers, the inclusive user-friendly software has routines for Computer Aided Design [CAD] at both simple and sophisticated levels and will process the drawings through to a full machining routine.
Price on application
Unit price: $
How to order:
Email your order to admin@designability.com.au. We will send the goods out with an invoice. To make card payments please call 1300 363 352
Operated by personal computer, the bench top 190VMCxi Vertical Machining Centre is ideally suited for the classroom yet is capable of cutting steel to close tolerances. Special accessories allow the machining of wood and plastics for multimedia design and technology.Pre-loaded anti backlash ball screws and stepping motors with micro-stepping drives allows simultaneous movement of all axes with a system resolution of 0.01mm (0.0004″).
Infinitely variable and programmable spindle speeds from 0.45kw (0.6HP) DC motor with thyristor controlled drive package and overload cut-out.Single phase electricity power supply gives easy transportability and installation.Touch sensitive control panel incorporating illuminated push buttons allows the machines to be operated without a computer.Full perimeter guarding with fail safe switches in the positive (safety) mode on access doors and guards stop spindle and axes movements.6 position tool storage rack.Links with 160TCL lathe and robots in an FMS system.
CNC Features
CAM user friendly software with 3D graphical simulation and automatic error checking.
ISO format machine programming using G and M codes included as standard.
Active and accurate tool path graphics continuously displayed line by line during program write, test run and manufacture.
Links with major CAD/CAM packages.
All major features available on industrial machines are standard.
Safety equipment and features
Fully enveloping transparent high impact chip/work guards with fail-safe switch interlocks.
Earth leakage current breakers fitted.
Emergency stop latching button.
Isolator switch lockable with padlock.
Integral electrical panel with no volt protection.
Positive end stops on all axes.
Low voltage control circuitry.
Ergonomic positioning of the machine controls.
Full graphical on screen test simulation prior to machining operation.
Accessories
A range of accessories to enhance the machine are available, including:
Automatic 6 position tool changer
Airmist coolant
Range of work holding devices
Woodworking accessories
Comprehensive range of tools and holder
1.Automatic 6 position tool changer
2.80mm 3 jaw self centring chuck
3.100mm 4 jaw independent chuck
4.125mm 3 jaw self centring chuck
5.Recommended set of 5 tool holders
6.Recommended set of tooling 2.80mm 3 jaw self centring
7.Woodworking attachments
8.Cabinet base with lockable door and computer shelf
9.Emergency foot switch
10.Airmist coolant system
11.Machine vice 100 x 75mm capacity
Spindle speeds
200 to 400 rpm
Rapid traverse rate at 100%
2000mm/min (78"/min)
Axis travel
X(longitudinal) 225mm (8.9")
Y(cross) 150mm (5.9")
Z(vertical) 140mm(5.5")
System resolution
0.005mm
Table dimensions
410 x 130mm(16.1" x 5.1")
Spindle to table
202mm (7.9")
Centre line of spindle to column
130mm (5.1")
Table to column
5 to 130mm (0.2" x 5.1")
Tee slots
2 x 10mm x 100mm centres
Machine Dimentions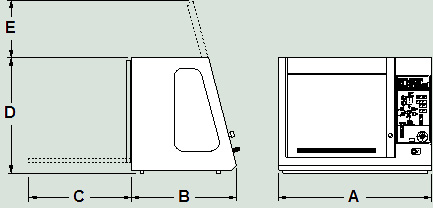 A 890mm
B 610mm
C 600mm
D 680mm
E 640mm

Machine Weight: 150kg (330lbs)
190VMCxi Product Brochure Download